A Lesson for Myself in Body Positivity
December 13, 2019 Author: Rianne Chavez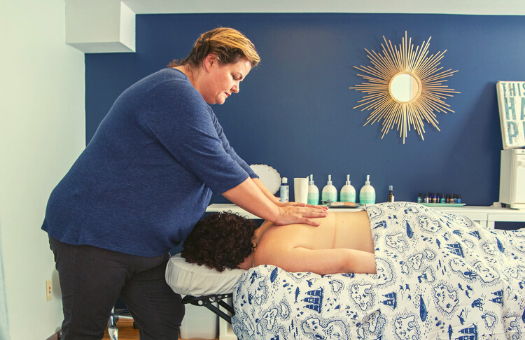 A few months ago, I decided to partner with a photographer to get massage images of real women getting a massage. The stock image industry is plagued with horrible images of not only massage therapists that don't look like me with their jewelry, long fingernails, and awkward hand positions, but also of clients that don't look like mine.
My clients are real women, in real bodies that are not represented by thin, usually white, young, "model" types. It's not a judgement against my clients, it's commentary about the "ideal" images that are put out there for our industry to use.
My clients come in a variety of hues and body shapes. They have cellulite, stretch marks, and tattoos. They are women of all ages. I want my potential clients to see people like THEM receiving massage in images.
representation matters to me and it's important as a business owner to strive to be inclusive.
I worked with Karra from Karra Kostya Photo & Co to create a photoshoot that included various models and I couldn't be more pleased. The photos are stunning and my only issue is choosing what images to use because each one is so beautiful.
When I had my first glimpse of our work, something interesting happened though. While I loved and was appreciating the product we were creating, I kept looking at myself, and my body. Seeing myself in these beautiful images struck a chord, deep inside me and I felt like I didn't belong. I sat there shocked at what I actually look like. I was getting distracted by seeing my tummy rolls, or how my butt looked. I was judging myself, and I wasn't kind.